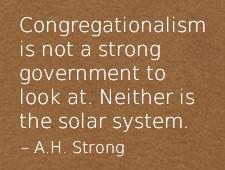 Congregationalism is the idea that Christ has established local assemblies of believers and that He is directly Head over each. The idea has both internal and external application. Externally, congregationalism means there are no layers of ecclesiastical authority outside the local church between it and Christ. Internally, it means there is no individual or board between the congregation and Christ. Leaders serve the congregation.
History has proven that layers of control outside the local church are no guarantee against corruption, either in doctrine or practice. Roman Catholicism comes to mind. That's why we had the Reformation.
But congregational government virtually guarantees that there will be sick congregations. Corinth and Laodicea come to mind. That's why we have the epistles.
If both congregational and non-congregational structures are subject to error and failure, does it even matter what structure churches use? If we rely solely on results arguments — as we're so fond of doing — maybe not.
But for Bible-believers, "What works best?" isn't really the question, is it? The right question is "What do the Scriptures instruct us to do?" The results are God's concern, not ours.
14089 reads