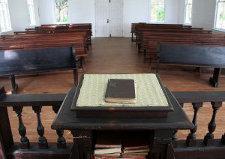 Reposted, with permission, from DBTS Blog.
The question of a pastoral "call to ministry," reminiscent of God's call of biblical prophets and apostles, has long been a issue with which ordination councils have been concerned. Many operate on the assumption that no one aspiring to the ministry may proceed without such a "call."
I concede, of course, that God's Spirit is active in distributing gifts in his church "according to his own will" (Heb 2:4) and "as he determines" (1 Cor 12:11, cf. v. 18). It is for this reason that the Scriptures may state plainly that God has appointed the church's teachers (1 Cor 12:28) and has sent its laborers into the harvest (Luke 10:2). Indeed, we have reason to believe that God's providential preparation of his ministerial appointees is extensive and complex (see, in principle, Gal 1:5 and Jer 1:5). Please do not hear me saying anything less than this.
14176 reads