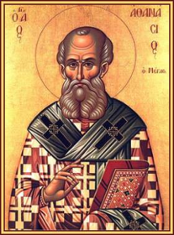 On "Theology Thursday," we feature short excerpts on various areas of systematic theology, from a wide variety of colorful (and drab) characters and institutions. We hope these short readings are a stimulus for personal reflection, a challenge to theological complacency, and an impetus for apologetic zeal "to encourage you to contend earnestly for the faith that was once for all entrusted to the saints" (Jude 3).
The following are excerpts from a 5th century church history by Socrates Scholasticus about the beginning of the Arian Controversy.
The Arian Controversy Begins
After Peter, bishop of Alexandria, had suffered martyrdom under Diocletian, Achillas was installed in the episcopal office, whom Alexander succeeded, during the period of peace above referred to. He, in the fearless exercise of his functions for the instruction and government of the Church, attempted one day in the presence of the presbytery and the rest of his clergy, to explain, with perhaps too philosophical minuteness, that great theological mystery—the UNITY of the Holy Trinity.
4658 reads