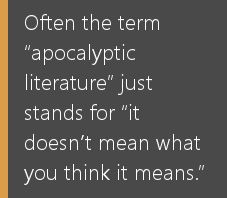 Author's note: This article reproduces and modifies some of the chapter on "Covenant and Apocalyptic" in the book I am writing. It is therefore not meant to be a full exploration of the subject.
If you have been keeping abreast of evangelical treatments of the books of Daniel, Ezekiel, and Zechariah, or the Olivet Discourse or Book of Revelation you will have run into the term "Apocalyptic literature." It's the favorite go-to for anyone who wants to stop the mouths of the prophets while sounding scholarly.
I realize that opening line is a bit testy, but I write it as one who has spent some time studying the major works on Apocalyptic — all written by critical liberal scholars — and have read the almost threadbare regurgitations of conservatives who are content to use this scholarship to support their reading of the Bible while retaining traditional beliefs.
2985 reads