Let Go and Let God? An Interview with Author Andy Naselli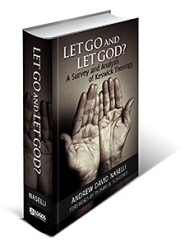 Dr. Andrew David Nasellli (a.k.a. Andy Naselli), has completed some excellent doctrinal and historical study in the area of sanctification. How do believers grow to be like their Lord? What should they expect the experience of growing in holiness to be like?
Much of conservative evangelical and fundamentalist thought on the subject today is heavily influenced by ideas that took shape and gained popularity in the 19th century Keswick conferences. Andy's BJU PhD thesis work focused on these Keswick ideas and their shortcomings. Subsequent articles and lecture series have refined them. The result is soon to be available in electronic form from Logos.
I interviewed Andy about the book and the Keswick way of thinking. The interview consists of two files. The first focuses on the history of Keswick and its influences on leaders such as C.I. Scofield and Lewis Sperry Chafer.
The second file focuses on the problems in Keswick and Keswick-like views of sanctification.
(Andy blogs at Thoughts on Theology which appears in our Blogroll)
High quality version
Part one (17:15, 16.5 MB), Part two (15:04, 14.5 MB)
Lower quality version for slower connections
Part one (8 MB), Part two (7 MB)
---
Aaron Blumer, SI's site publisher, is a native of lower Michigan and a graduate of Bob Jones University (Greenville, SC) and Central Baptist Theological Seminary (Plymouth, MN). He, his wife, and their two children live in a small town in western Wisconsin, where he has pastored Grace Baptist Church (Boyceville, WI) since 2000. Prior to serving as a pastor, Aaron taught school in Stone Mountain, Georgia and worked in customer service and technical support for Unisys Corporation (Eagan, MN). He enjoys science fiction, music, and dabbling in software development.