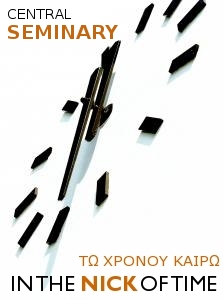 During my years of teaching at Pillsbury Baptist Bible College (1978-1985), I was asked to teach several courses in the area of counseling. I had never had a counseling course in college or seminary. Where would I begin? What resources were available to help construct meaningful courses in various aspects of counseling?
I had come out of seminary convinced of the doctrine of the sole authority of Scripture. I knew that without such an authority, nothing was worth preaching. I spent the first ten years of my ministry anchored to this important truth. There was no doubt in my mind but that the Bible had all the answers for life and living.
Nevertheless, as I planned my courses I began to question the degree to which the Bible actually spoke to this issue. Distracted by the cacophony of voices coming from the psychological world, I found myself being drawn toward some of the more popular psychological systems—especially that of Maslow. It seemed to me that there was at least some validity to what he and other secular psychologists were saying.
Given my earlier commitments, why was I so easily convinced that another resource would give better answers than the Bible? Why have so many other pastors and theologians been so easily persuaded that the perspectives of psychology actually give true answers to the difficult questions of the soul of man?
Part of what motivated me was a striving to become knowledgeable in my field of study and experience. The academic world pushes intellectual mastery, and to stay "alive," one has to excel. I saw what happened to those who did not excel intellectually, and I was not interested in that!
Also, my personal experience seemed to confirm Maslow's observations. His perspective seemed valid. It was not difficult to find examples in the Bible that seemed to fit his system. That was the beginning of my journey into the combination of biblical teaching with psychology. This combination is known as "integrationism."
I will forever be grateful for Dr. Bill Goode, the pastor of Faith Baptist Church in Lafayette, Indiana, who visited our campus and stopped in one of my classes. That day in class, I lectured about how the Bible supported Maslow's hierarchy of needs. Following that class, Dr. Goode commended me for the counseling emphasis that Pillsbury had developed. Then he asked why I was using Maslow. He suggested that if the Bible did actually support some of what Maslow was saying, then I could teach it as well from the Bible as from Maslow. That was the beginning of my journey into actually using the Bible as the sole authority for faith and practice.
A second experience at Pillsbury College was also pivotal. I was the dean of students, a job which brought me into contact with troubled lives and wounded spirits. Students came from all over the United States and from all kinds of backgrounds. Some had recently come to Christ and were struggling with the residue of their past sins. Others came from sound Christian homes and churches but struggled with growing and changing inwardly to become more like Christ.
At the completion of a fall semester, students were preparing to leave for Christmas vacation and time with family and friends. One young woman ended up in my office due to some chaotic behaviors that centered on compulsivity. I wanted to help! I wanted to believe that the Bible had answers for her deep and frightening questions. The truth is, however, that I did not know how to help her.
Shortly before this episode, I had become aware of the Christian Counseling and Educational Foundation in Pennsylvania. This girl's home was in the Philadelphia area, so I connected her with the CCEF. Dr. Wayne Mack was gracious in meeting several times with this girl. She came back changed following the Christmas break.
I was impressed, but I was also convicted. I contacted Dr. Mack and asked if he would share with me how he helped my student, which he was happy to do. What he did made good biblical sense. He helped to reaffirm my conviction that the Bible really is sufficient. This episode also pushed me to seek further training in biblical counseling—and yes, it was at Westminster and CCEF.
Let me go back to my original question. Why was I so easily moved away from a doctrine (i.e., the sufficiency of Scripture) in which I so strongly believed? The answer lies in my own life experiences. The doctrine did not seem to work its way down to the day-by-day issues of life.
In my observation, many fundamental pastors face the same difficulty. Thus, they find some other voice for their people when they are challenged with complicated issues like the one that my student faced. This equivocation is tragic at the least and destructive at the most. If the sufficiency of Scripture is only a lofty doctrine to which we give lip service, but then easily set aside when difficult issues present themselves, then we do not believe in the sufficiency of Scripture at all. The Bible becomes just another book alongside of psychology. We actually have become practicing integrationists.
I have come to believe that the Bible really is sufficient. It brings us real answers even for the most complicated problems of life. I will always be grateful for key people in my life who challenged me with regard to what I said I believed versus what I actually was willing to teach and practice. They helped to keep me from destroying people's lives.
Their help was timely. It is not too late for you to practice what you say you believe regarding the Bible as your sole authority for faith and practice. God, in all His wisdom, has given us a phenomenal book—it is the sufficient Word of God.
Penitentiall Hymns. I.
Jeremy Taylor (1613-1667)
Lord, I have sinn'd, & the black number swells
To such a dismal sum,
That should my stony heart and eyes,
And this whole sinful trunk, a flood become,
And run to tears, their drops could not suffice
To count my score,
Much less to pay:
But thou, my God, hast blood in store,
And art the Patron of the poore.
Yet since the Balsam of thy Blood,
Although it can, will do no good,
Unless the wounds be cleans'd with tears before;
Thou in whose sweet but pensive face
Laughter could never steal a place,
Teach but my heart and eyes
To melt away,
And then one drop of Balsam will suffice. Amen.
---
Dr. Thomas Zempel served as a youth pastor for the first ten years of his full-time ministry before moving to Pillsbury Baptist Bible College to teach in the Bible department and serve as the dean of students. Following his six years at Pillsbury and his resident training at Westminster, he became the senior pastor in Windsor Locks, Connecticut. During his years as senior pastor, he had many opportunities to counsel people with a wide variety of needs. This experience helped to establish practical biblical skills which came out of the theological training he received in the area of counseling. It was this training that has allowed Dr. Zempel to head up the counseling department at Central Baptist Theological Seminary, hold seminars in several states, and teach and counsel in three foreign countries. Dr. Zempel is a member of the National Association of Nouthetic Counselors, and has been a NANC Fellow since January 1, 2008. Dr. Zempel and his wife, Jane, enjoy three children and six grandchildren. Jane joins Dr. Zempel in speaking at family conferences and ministering in the local church. He also enjoys music, travel, sports, gardening, fishing, hunting, and woodworking. Not every professor, student, or alumnus of Central Seminary necessarily agrees with every opinion that this article expresses.
9532 reads