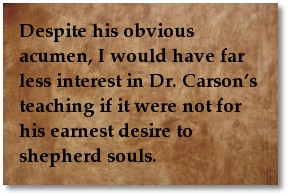 I have been privileged to sit under the teaching ministry of Donald A. Carson during my studies at Trinity Evangelical Divinity School in suburban Chicago. Dr. Carson's skill as a teacher was one of the reasons I chose to enter the Doctor of Ministry program at Trinity. After two all-day, week-long courses under his tutelage—not to mention attendance at a number of conferences where he was the keynote speaker—I have come to deeply appreciate this unique servant of Christ. Although Dr. Carson is a man who deserves a tremendous amount of respect, I don't want to merely adulate. What follows are my honest observations.
Dr. Carson is perhaps the most brilliant man I have ever met. I can say by experience that feelings of inadequacy proliferate among his students. He is a gracious man, but not particularly sensitive. I once asked a question in a way he did not appreciate, and he was neither slow nor gentle in letting me know it. He told our class one day, "I do not much care what people think of me." I suppose he exaggerated, but not much. God has graciously equipped him with the thick skin requisite for those who contend for the glory of God in the arena of intellectual battle. Wearing that thick skin in the classroom, Dr. Carson does not waste much time worrying about how his students feel. He is, however, quite anxious to influence how they think. And for this I will forever remain in his debt.
Like many brilliant men who are also gifted leaders, Dr. Carson can prove less than patient with anyone who lags behind his theological position, as well as with all who move beyond it. Those who lag behind (typically the more conservative) seem to bear the brunt of his sternness; those who run ahead (typically the less conservative) tend to rile his genius. Neither position is very comfortable. Yet Dr. Carson has a well deserved reputation for relating to both his critics and to those he criticizes with fair, accurate, thorough, respectful, level-headed, self-controlled, God-honoring dialogue.
Dr. Carson reads over 500 books per year—you fill in the blanks! In an innocently casual aside I heard him refer to the 300 books he read while researching for one of his books. (I'm hoping no one heard me gasp). Dr. Carson sleeps approximately four hours per night—sometimes less. He has written a book on Greek accents that is unsurpassed in the field (at least I believe this is the case; I've seen no evidence to the contrary, and this is one of his books I have decided plans never to read myself, much less to compare against other offerings in the field).
Though Dr. Carson is a top student in science and mathematics, he has a deep appreciation for poetry and is known, in the midst of a lecture, to recite from memory an extended passage from the works of some great poet. One day in class he complained that there simply are not enough theologians writing hymns. I scoffed a bit, wondering what on earth he had done about it. I was duly humbled when I walked into the Trinity book store during a class break only to find a published collection of hymns written by none other than Donald Carson! In the midst of his many endeavors, you will occasionally find him on public television defending the historicity of Jesus and the fidelity of the gospels against America's most learned antagonists. (And as graciously as I can bring myself to say it, he makes each one look like a monkey in the process).
Despite his obvious acumen, I would have far less interest in Dr. Carson's teaching if it were not for his earnest desire to shepherd souls. Carson is no ivory-tower theologian. He spends roughly half of every year traveling throughout the world to minister the Word in virtually every imaginable situation and location. He has a particular love for shepherds who minister in difficult places. He faithfully evangelizes at secular universities. He is also an able and sought-after counselor—often recruited to minister to prominent Christian leaders who have ruined their lives and devastated their ministries.
Dr. Carson also possesses a warm, devotional orientation. He is a man of prayer. His faithfulness to the truth of God's Word is legendary. He has fought many theological battles without compromising his position. When the critics of Scripture start shooting, Carson is the guy Bible believers want in their fox hole. Nonetheless, his zealous defense of the faith does not emit primarily from a passion to engage in theological debate. His zeal flows from a genuine passion to honor his Lord.
Dr. Carson loves to talk. What is so unusual is that almost everything that comes from his mouth exudes wisdom. This wisdom is not always packaged in serious tones, mind you. Carson has a quick wit and routinely takes an almost boyish delight in telling a humorous story. He is a scholar who knows how to laugh.
Dr. Carson was raised in French Canada in a pastor's home during a stretch of history in which evangelicals there were persecuted. This upbringing profoundly influenced Carson and he speaks of it often—earnestly, sometimes with tears. He saw pastors jailed. He saw the persecution lift. He saw response to the gospel explode in glorious triumph. During these formative years Dr. Carson's rudder was set to defend the faith against strong opposition.
I do not agree with every theological position Dr. Carson holds, nor with some of the decisions he makes in the outworking of his Christian life. But I have found in him a man of fervent faith, fidelity to Christ, and a man of kindred spirit. I trust his heart and have been profoundly influenced by his mind. He has taught me how to read the Bible. For this I will remain forever grateful.
I have no doubt Dr. Carson's influence will be felt for generations to come, should the return of Jesus be delayed. I have no doubt Dr. Carson will hear, "Well done good and faithful servant" from his Lord. Knowing what a thrill it has been to study at Dr. Carson's feet, my heart thrills all the more with the prospect of sitting together with him at the feet of our Master in glory. (I still hope Jesus puts Carson in his place a time or two, though. His former students would enjoy that immensely!)
Editor's note: D. A. Carson is Research Professor of New Testament at Trinity Evangelical Divinity School in Deerfield, IL. and author of many articles and books. A few important recent volumes are
Christ and Culture Revisited
,
Evangelicalism: What Is It and Is It Worth Keeping?
, and
Scandalous: The Cross and Resurrection of Jesus (Re:Lit)
. He does not claim to be a Fundamentalist.
---
Dan Miller has served as the Senior Pastor of Eden Baptist Church since 1989. He graduated from Pillsbury Baptist Bible College with a B.S. degree in 1984 and his graduate degrees include a M.A. in History from Minnesota State University, Mankato, and the M.Div. and Th.M. from Central Baptist Theological Seminary. He is nearing completion of D.Min. studies at Trinity Evangelical Divinity School. Dan is married to Beth and the Lord has blessed them with four children: Ethan, Levi, Reed and Whitney.
10259 reads