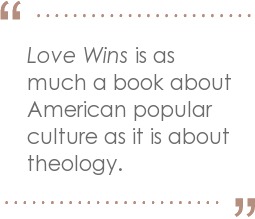 In 1959 RCA releasedFifty Million Elvis Fans Can't Be Wrong—Elvis' Gold Records Vol. 2.1 Elvis Presley was an exceptionally popular entertainer who was also one of the most controversial public figures of the late 1950s. The title of his second greatest hits album indicates a popular sentiment: It must be right, because millions of people believe it. But this sentiment does not translate to theology. Though many church fathers and theologians throughout the ages may have believed in a particular doctrine, it's correctness is not established by that fact alone.
Rob Bell is the founding pastor of Mars Hill Bible Church in Grand Rapids, Michigan and is the author of such books as Velvet Elvis, Sex God, Jesus Wants to Save Christians, and Drops Like Stars. Many evangelical Christians are familiar with his Nooma series of videos.2 Bell is influential in Emerging Church circles and is a popular speaker. Though his previous books have sold well, Love Wins is especially popular.
The twin premises of Love Wins are that God is a God of love and that the evangelical Christian view of God is too narrow. "Has God created billions of people over thousands of years only to select a few to go to heaven and everyone else to suffer forever in hell?"3 Bell asks. Love Wins challenges the traditional views concerning heaven, hell, and salvation. For the sake of brevity this review concentrates on Bell's view of salvation.
Universalism
Simply stated, Rob Bell is a universalist. Baptist theologian Millard Erickson's description of universalism also describe's Bell's views: "From time to time, however, a contrary position has been espoused in the Church, namely, that all will be saved. This position (is) known as universalism."4 Some years ago Erickson noted this tendency in a list of trends within liberal evangelical circles: "A hope for near-universal salvation. God has not left Himself without a witness in all cultures, sufficient to bring people to salvation if they earnestly seek it."5
Bell does not concern himself with "earnest seekers." Instead, he arranges a list of passages from both the Old and New Testaments to describe God's love for human beings.6 God must save everyone, reasons Bell:
How great is God?
Great enough to achieve what God sets out to do,
or kind of great,
medium great,
great most of the time,
but in this,
the fate of billions of people,
not totally great.
Sort of great.
A little great.7
Bell sees God as a failure if He doesn't save everyone: "Will all people be saved, or will God not get what He wants? Does this magnificent, mighty, marvelous God fail in the end?"8
One could call this "God is a failure" argument "extreme pathos." Evangelical theology answers this dilemma, "Will all be saved? The church's usual position throughout history has been that while some or even many will be saved, some will not."9 At least two theological arguments stand against the universal salvation espoused in Love Wins. [amazon 006204964X thumbnail]
The nature of the atonement
Bell's view of the extent of Christ's atonement is apparently informed by the "Moral-Influence Theory." This view was originally developed by Peter Abelard (1079-1142), a theologian and professor at the University of Paris.10 Abelard "emphasized the primacy of God's love and insisted that Christ did not make some sort of sacrificial payment (i.e. ransom) to the Father to satisfy His dignity. Rather, Jesus demonstrated to humanity the full extent of God's love for them."11
The Moral Influence Theory was further developed at a much later date by Horace Bushnell (1802-1876) in the US and Hastings Rashdall in the UK.12 Bushnell wrote, "It is not that the suffering appeased God, but that it expresses God—displays, in open history, the unconquerable love of God's heart."13 Lewis and Demarest summarize this theory: "At bottom, then, people are saved by the compelling power of God's self-giving love."14
Bell views the traditional evangelical view of salvation as "God in the end doesn't get what God wants"15 because God "wants all men to be saved and to come to the knowledge of the truth" (NASB, 1 Tim. 2:4). What will be the outcome of the lives of billions of human beings?
To be clear, again, an untold number of serious disciples of Jesus across hundreds of years have assumed, affirmed, and trusted that no one can resist God's pursuit forever, because God's love will eventually melt even the hardest of hearts.16
This is universalism, clearly presented and concisely stated.
The means and extent of salvation
The second theological problem with Love Wins is Bell's view of the means and extent of salvation. How far does the death of Christ extend to all human beings?
Rsearch on this topic reveals a "kindred spirit" to Rob Bell: Nels Ferré of Sweden.17 As a youth Ferré was troubled by his father's conservative understanding of the Scriptures, especially his eschatology. Ferré eventually immigrated to the US where "he built his own theology on the central thought of divine love."18 "It is his understanding of God's love that governs his interpretation of Scriptures and the issue as a whole."19 Ferré described the means and extent of a universalist salvation in these terms:
The logic of the New Testament at its highest and deepest point is the logic of God's sovereign love… Those who worship the sovereign Lord dare proclaim nothing less than the total victory of His love. No other position can be consistently Christian. All other positions limit either God's goodness or His power, in which case both Fundamentalism and modern Liberalism have their own varieties of the finite God.20
Bell's conclusions are mirror-images to those of Ferré. Concerning the love of God, he writes:
Which is stronger and more powerful, the hardness of the human heart or God's unrelenting, infinite, expansive love? Thousands through the years have answered that question with the resounding response, "God's love, of course."21

…

At the center of the Christian tradition since the first church have been a number who insist that history is not tragic, hell is not forever, and love, in the end, wins and all will be reconciled to God.22
Indeed, theologians throughout the centuries have written about universalism. Origen (ca. 185-254) probably first systematized universalism: "Origen also adopted with some enthusiasm the idea of apokatastasis or universal restoration, according to which every creature, including both humanity and Satan, will be saved."23 But universalism is not the prevalent theological concept of salvation. Over the centuries a few writers and theologians followed Origen's lead. Far more theologians have not.
Theological method
At this point we must ask the question, "How does Rob Bell do theology?" In the case of his universalism, Bell assembles a number of verses in an effort to support of the dominance of God's love over all His other attributes. He then adds a number of "traditions" to the mixture and concludes that everyone must be saved from destruction.
On the one hand Bell does not consider many of the Scripture passages that obstruct his assertions. On the other hand Bell paints the opposing views in stark, evil terms. In response to some church doctrinal statements concerning the condemnation of unbelievers, Bell writes:
So, in the first statement, the "unsaved" won't be with God. In the second, not only will they not be with God, but they'll be sent somewhere else to be punished. And in the third, we're told that not only will these "unsaved" be punished forever, but they will be fully aware of it—in case we were concerned they might down an Ambien or two when God wasn't looking…24
Bell does not attempt to balance the opposing views against universalism. He makes little effort to compare and synthesize the data of the biblical passages and word studies and the biblical, systematic, and historical theology—and then determine a measured conclusion. This is not to say that Bell did not do any theological research, word studies and analysis. But his presuppositions allow no other conclusion than that Love Wins. In the final analysis, Bell's theological method is careless and prejudiced.
What may the reader conclude from Love Wins?
Love Wins is as much a book about American popular culture as it is about theology. Bell's underlying assumptions about salvation are probably based on the prevailing concept of "fairness," that is, there are no losers and the authorities ensure an equality of outcomes—the authority in this case being God.
It is not unreasonable to conclude that Bell perceives the traditional view of salvation as unfair because some are saved but others aren't. Though Bell wishes the reader to think he is defending God's honor, in reality he creates a god who is forced to serve human beings "because He loves them." In this sense Love Wins is man-centered, or anthropocentric. Here salvation is a right and not the gift of God.
Is Love Wins a polemic against the evangelical view of the gospel? In response to the evangelical view that some are saved but others aren't, Bell writes:
What kind of faith is that? Or, more important: What kind of God is that?25

This belief raises a number of issues, one of them being the risk each new life faces. If every new baby being born could grow up to not believe the right things and go to hell forever, then prematurely terminating a child anytime from conception to twelve years of age could actually be the loving thing to do, guaranteeing that the child ends up in heaven, and not hell, forever. Why run the risk?26
This statement is part of his "extreme pathos," a prejudiced opinion against conservative evangelical Christianity. One might hope that Bell is merely overstating his case for emphasis and not revealing his true beliefs. However, though he makes many other harsh statements, Love Wins is not really a polemic.
The God who is revealed in the Bible is most certainly a God of love, but He is not limited to love. This is the major error of Love Wins. He is also the God of justice, mercy, forgiveness, and grace. He is infinite in His wisdom, eternal in His being, sovereign over the Universe, both transcendent and imminent, and yet He is not limited in any way by our finite understanding of these qualities or attributes. There is much we cannot understand about our great God: "For as the heavens are higher than the earth, so are My ways higher than your ways and My thoughts than your thoughts." (NASB, Isa. 55:9).
Perhaps the combination of Rob Bell's writings, videos, personal appearances, large church and cultural influence has gained him millions of fans. But his personal popularity does not make him correct—nor does the popular culture he represents make him correct. Love Wins is poorly-done theology and a caricature of evangelical Christianity. How evangelicals wish that universalism was true! But it is not. The Bible is clear that not everyone receives salvation.
And no one's heart breaks more for the lost than God's.
Notes
[node:bio/jimfrank body]
24390 reads