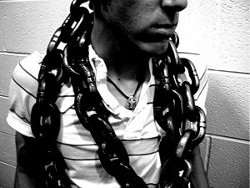 Reprinted with permission from Paraklesis, Summer 2011.
Some years ago, a young wife clinging to her husband hung her head in tears as she shared about her adulterous affair. She had confessed her sin to her husband and to the church some weeks prior. I gently raised her head and shared, "please do not lower your head in shame to anyone in this church—we have all been saved, are being saved, and one day will be saved by the blood of Jesus." We then began to construct a redemptive solution for this couple.
Scripture portrays a believer's relationship to sin in a multicolored fashion. We are portrayed as sinners who are completely forgiven and stand completely accepted and loved by God and, at the same time, we are portrayed as saints who continue to struggle with sin. A redemptive paradigm allows this sinning saint identity while avoiding a guilt-driven or grace-distorting double-mindedness.
Past
To engender a redemptive environment, Pastors and counselors should emphasize the threefold sense of salvation: We have been saved (Acts 16:31; 2 Tim. 1:9) from the very penalty, and all penal guilt, of our sin. This past sense or tense of salvation is summed up as justification. Justification entails God pronouncing a judicial verdict and acquittal of all our sins so that each of us stand before Him in Christ's imputed (not imparted) righteousness and not by our own works (Rom. 3:20-25, Gal. 2:16).
At the moment of conversion, even before we start living righteously, God views us as righteous. Hence, God does not accept or love us based on our personal holiness but rather on the holiness of His Son. Justification results in an immediate personal (Rom. 4), permanent (Rom. 5:1-2), positional (Rom. 8:1-3), non-progressive/non-consummative (Rom. 5:1, 12-21), non-condemnable (Rom. 8:1-2, 8:31-33) standing before God based solely on Christ's righteousness as demonstrated in the atonement (Rom. 3:21-28, 5:9; Eph. 1:7; Phil 3:9). Believers must embrace the truth that personal sin does not alter the way God's judicial view of the saint who sins. It is this very acceptance by God that impels the believer to return to God in brokenness and humility. Justification is based on imputation of righteousness, not impartation of righteousness.
Present
The present tense of salvation reveals that we are being saved (Phil. 2:12-13, Rom. 6-8). This refers to sanctification—a progressive process of being made holy, and being saved from the power and dominion of sin in our lives. Pastors should help believers discern the difference between the feelings of condemnation, the heavy and very real consequences of personal sin and the convicting ministry of the Spirit. Guilt is a powerful force that can lead to confusion. Remember that there is now "no condemnation for those in Christ" (Rom. 8:1), which means we are not guilty before God for our past, present or future sin. While there is no condemnation for those in Christ, Satan is referred to as the accuser (or condemner) of the brethren (Rev. 12:10) who accuses us day and night. Zechariah 3:1-5 provides a vivid illustration of this truth.
Then he showed me Joshua the high priest standing before the Angel of the LORD, and Satan standing at his right hand to oppose him. And the LORD said to Satan, "The LORD rebuke you, Satan! The LORD who has chosen Jerusalem rebuke you! Is this not a brand plucked from the fire?" Now Joshua was clothed with filthy garments, and was standing before the Angel. Then He answered and spoke to those who stood before Him, saying, "Take away the filthy garments from him." And to him He said, "See, I have removed your iniquity from you, and I will clothe you with rich robes." And I said, "Let them put a clean turban on his head." So they put a clean turban on his head, and they put the clothes on him. And the Angel of the LORD stood by. (NKJV)
The consequences of personal sin are weighty and can be devastating, leading to God's discipline—but not to His condemnation. His grace is always sufficient. The Holy Spirit never condemns but rather convicts and draws us back to experience the fellowship and intimacy with God. It is this very work of the Holy Spirit and renewed intimacy with God that allows us to work through the very serious consequences our sin.
Future
The future sense of salvation is that we will be saved (glorification). God promises us ultimate and final deliverance from the very presence and pollution of sin (Rom. 13:11, 1 Pet. 1:3-5, Rom. 8:31-39). This threefold approach to salvation helps to eliminate the two extremes in viewing sin. While some churches view sin primarily as a societal evil and phenomena, and thus focus on how sin impacts various communities, the other extreme is to demonize a particular sin (or sins) with the result that it is kept hidden—concealed and never confessed. A redemptive environment encourages any believer to confess any sin without fear of retribution or alienation (1 John 1:5-2:2). Through confession, we agree with God regarding the seriousness of our sin, and we ask God to help with the consequences caused by it. We agree that personal sin is a horrible offense hated by God and which led to the horrors of Jesus' atoning work on the cross. When we confess, we agree with God that personal sin has led to lack of intimacy with God and other believers. However, we also agree with God that our personal sin is covered through the substitutionary, atoning work of Christ and that God still loves and accepts us. So, we appropriate God's grace and provision through faith to help work through the personal consequences and domination of sin.
---
Dr. David Mappes is Associate Professor of Theology and Bible Exposition at Baptist Bible Seminary. If you have questions related to BBC&S stewardship initiatives please contact the BBC Foundation at (800) 451-8668.
2488 reads