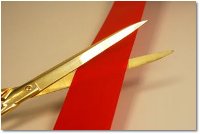 SI is funded from four sources: donations, advertising, Amazon purchases from our links, and what the site's owner throws in now and then. The first source pays nearly all of SI's server-related costs. The second has been the largest single source and funds everything from phone bills and PO box rentals to traveling expenses, editing fees (this expense ended during the 2nd quarter of this year), and compensation for article writers (this year this took the form of contest prizes). Ad income also funds site development and upgrades and—once in a while—a portion of equipment that has a site-related purpose (like a cell phone, for example). The third source—the Amazon links—has not yet yielded much revenue, but it's growing. Finally, the fourth source—Aaron's pocket book—funds all of the above whenever the other three sources fall short. After cutting some costs this year, that source has been—thankfully—marginal.
New Advertising Options at SI
With that as context, on to the point of this brief post. Advertising. SI averages 12 to 15 thousand "Absolute Unique Visitors" per month (per Google Analytics) and 40 to 60 thousand "visits" (also per GA). Active membership is just under 1,050 at the moment. So SharperIron remains a good way to reach the conservative evangelical and Fundamentalist niche.
But economic pressures have forced a number of folks in our ad market to cut back. Accordingly (and also for the fun of it), we're making some changes to the advertising available at SI.
We're cutting prices. The rotating box ads we've always offered, are now available for much less than before.
We're offering an enhanced product. You can now purchase a non-rotating ad that displays every time the page is loaded. And these will alternate form and position in order to enhace the visual appeal.
"Ribbon" style ads that appear on several of our pages are now available individually, so there's a lower entry-level ad available for those on a tight budget.  As of today (and for a limited time), it's possible to advertise at SI for as little as $30 a month.
As before (at least since June of '08), all advertisers are listed on the Current Advertisers page as well. Due mostly to the annoyance factor, SI doesn't engage in email marketing beyond announcements to our registered members (which, I expect, are annoying enough in themselves sometimes).
You can find more information and links for buying ads here.
If you want to help with SI's ad revenue but can't buy an ad, one way you can help is by disabling your ad blocker for the site and taking the time to visit the sites of our advertisers.